THE PROCESS: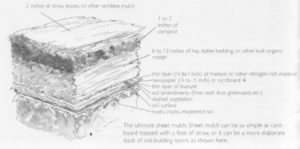 Sheet mulching involves laying down cardboard over an existing lawn and layering compost and mulch over it. These layers suppress weed growth and create healthier soil.
Sheet mulching can be done over the span of a weekend and doesn't require using any heavy equipment.
STEP 1: PREPARATION
Get rid of tall weeds by mowing or knocking them down.
Remove bulky and invasive plants
Flag your sprinkler heads if you're planning on retrofitting them for drip irrigation.
STEP 2: EDGING AND MOUNDING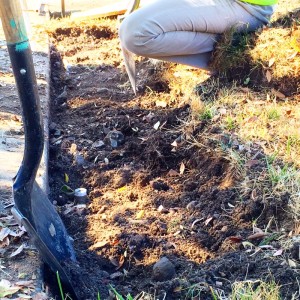 Edge your lawn by using a shovel to cut the lawn 8 – 12 inches from the outer perimeter to avoid future water runoff and to keep your mulch from spilling onto the sidewalk. You should dig approximately 3 inches down from the top of the sidewalk.
Create mounds using the leftover soil and grass from edging to create depth and visual interest.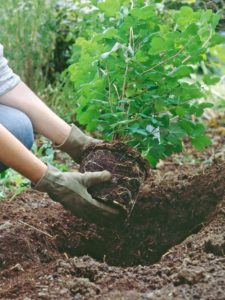 STEP 3: PLANT LARGE PLANTS
Once the area has been prepared plant any 5-gallon or larger plants before laying down cardboard.
STEP 4: LAYING DOWN A BETTER WEED BARRIER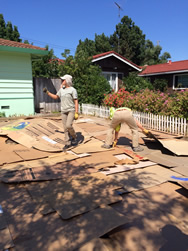 Roll out a recycled cardboard weed barrier. You can use cardboard boxes, burlap, or newspapers, but they need to overlap by 6 – 8 inches. Any lawn that is uncovered will grow right through. Cover everything except for the plants you plan on keeping.
Wet the cardboard as you go in order to keep it in place and mold it to your landscape.
Work the cardboard around existing plants by ripping and folding, which is much easier to do when the cardboard it wet.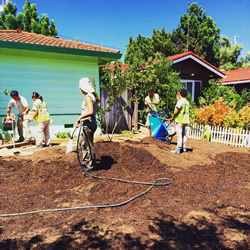 STEP 5: LAYER WITH COMPOST AND MULCH
Spread out 2 – 3 inches of compost directly onto the cardboard. This will help build the soil and provide for the smaller plants you will be planting later.
Cover the compost with a 2 – 3 inch layer of mulch. Zanker has a variety of mulches to choose from, click here to browse.
The compost and mulch layers should be a total of 3 – 5 inches deep.
STEP 6: PLANTING SMALL PLANTS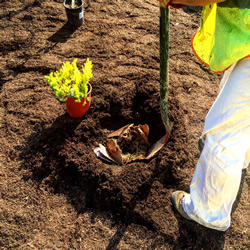 Cut holes in the cardboard to plant larger plants in the soil underneath the mulch. Smaller plants can be planted into the mulch/compost layer on top of the cardboard.
STEP 7: PROBLEM PREVENTION

Your new plants will require water and attention even though they are drought tolerant.
Small seedlings may need protection against snails and slugs, especially in our dry climate.
Protect your young trees from rodents with metal guards that wrap around the trunks.